SIKKIM NEWS HIMGIRI
Snowline English and Himgiri in Nepali
HIMGIRI AND SNOWLINE BEING PUBLISHED FROM SIKKIM INDIA SINCE 1985.
Sikkim, a tiny Himalayan State has a total area of 7,096 square Kms. Surrounded by three international boundaries, the kaleidoscopic panoramic view of majestic Mt. Kanchendzonga, Sikkim is rich in abundant natural beauties bestowed with the beautiful Himalayan glaciers, the snow clad mountains, the lakes, the waterfall and the rich flora and fauna and rich cultural heritage and tradition. The ruling SDF Government under the leadership of Dr. Pawan Chamling has taken various steps to build up the tourism infrastructure in the state to cope with the recent inflow of domestic and foreign tourists. Indeed Dr. Chamling's Government has given top priority and came up with a master plan to build tourism infrastructure in the State and at the same time looking for avenues of employment to many educated unemployed youths. With this objective, the State Government has chalked out the plan to construct model village in all 30 constituencies by constructing the traditional houses of Lepcha, Bhutia and Nepali so that village tourism as a sustainable development can grow side by side thereby making the people economically self-dependent in this State. One of the most advantageous position for the growth of tourism in Sikkim is that it is one of the most peaceful hill State in India. Now, South Sikkim is already on tourist map with the installation of a large statue of 135 ft. tall in height of Guru Padmasambhav at Samdruptse. Plan is afoot to develop the spot as one of the important Buddhist pilgrimage in South Asia. The recently operated ropeway from Deorali Bazar to Tashiling secretariat also attracted large number of domestic tourists while the large statue of Guru Padmasambhav at Samdruptse has become another attraction of tourist spot in the South District of the state. Apart from time, many spots of tourists importance have been identified and being development throughout the State. While speaking to this correspondent, Special Secretary of Tourism Department, Mr. K.K. Pradhan said, "The Department of Tourism has taken initiative to attract the tourist round the year by organising various tourism related activities in the state and our relentless effort is to bring Sikkim in world tourism map." He further maintained that directly or indirectly, Sikkim is earning 40 crore rupees per annum through tourism related activities in the State. Sikkimese food, handicraft, cultural functions and festivals are being organized in different part of the State in order to boost tourism, Mr. Pradhan further said. Similarly, Jorethang in south district is also considered a place of tourist attraction, and many people call it as 'the gateway of South and West Sikkim'. Jorethang is in the border area of Darjeeling and every year, the great festival, Maghey Mela is observed here at the beautiful valley of river Rongit. Similarly, the great flower festival of orchids and other seasonal flowers are observed at Namchi and Gangtok which has become an annual feature. Lake, 40 kms. away from Gangtok at an altitude of 3,780 mtrs., Nathula, border between India and China which is 56 Kms away from Gangtok at an altitude of 14,200 feet.Tashi View Point, Himalayan Zoological Park, Ganesh Tok, Hanuman Tok, Aritar etc. More new spots of tourist interest are being explored and developed in East Sikkim. In West Sikkim, tourists prefer to visit Pemayangtse Monastery, one of the oldest and historical monasteries in the State. The ruins of Rabdenste, the second capital of the erstwhile kingdom of Sikkim is situated near the monastery. The State Government has taken the measure to renovate this historic palace. Khecheopalri or Khechuperi lake is one of the holy lakes both for the Buddhist and the Hindu as a place for pilgrimage and the people come here from very far and distant places every year.Varsey is also one of the spots of tourist interest at an elevation of 10,000 ft.. One can see the rhododendron flowering all over the forest on this spot. In North Sikkim, Yungthang, Thangu and Gur-dongmar lake are very popular tourist spot. Yumthang, at an elevation of 11,800 ft. and 140 Kms from Gangtok is a paradise for nature lovers with a fascinating blend of flora and fauna and breathtaking scenic grandeur. Apart from that, there are many hot springs, himalayan graciers, waterfalls, monasteries, temples and many other beautiful places to visit in Sikkim. Adventurous tourism like white water rafting on the river Teesta, Trekking, Kayating, Yak riding or Safari, hand gliding etc. also are organized for the tourists. Para gliding has become the recent craze of the tourists in the state with the successful operation and trial by two energetic youths over the sky of Gangtok and Jorethang. With the success of the para gliding, adventurous tourism also expected to get fillip in the days to come in Sikkim with the initiative taken by the State government. Sikkim is not only peaceful, beautiful and with rich flora and fauna but because of culture and tradition as well. The three major ethnic people, Sikkimese Nepali, Bhutia and Lepcha have their own tradition and culture which is very interesting and characteristic. The main festivals of Sikkim are Maghe Sankranti Mela, Guthor Chaam at Rumtek Monastery, Bhumchu at Tashiding, Lho Rum Faat at Tendong, Pang-Lhabsol, Durga Puja or Dassin, Tyohar, Detor Cham at Enchey Monastery, Kagyed Dance at old Rumtek monstery, Lingdum Monastery, Phodong Monstery, Losoong etc. The main language or lingua franca of the State is Nepali or Gorkha Bhasa, However, Lepcha speaks in Lepcha language and Bhutia also speak in Bhoti language . English and Hindi are also spoken. The people of Sikkim are very simple, God fearing and nature loving.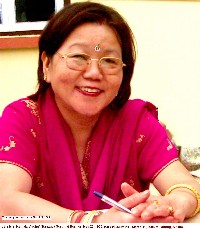 You can read daily headlines in our website at www.snowlinenews.com
Our tribute to litterateur and writer Kamala Aanshu on her 52nd birthday

May 23 is the birthday of litterateur and writer late Kamala Aanshu and 52nd birth anniversary. On her birth anniversary, we member of Himgiri Publication and himgirinepali.com pay our tribute to her and rededicate to work for her noble cause. To know more about her, please log on www.himgirinepali.com and visit other linke kamala etc.

Her birth, childhood and schooling-Kamala Aashu is the name well known to the tens and thousands of the Indian Nepali readers who regularly read popular Nepali daily newspaper Sunchari and other literary magazines. Born on May 23, 1955 to mother late Manika Rai and late Chandra Bikas Rai at Dhobi Khola, Gopaldhara, Mirik, Darjeeling, Kamala Rai, literary name Kamala Aashu was very fond of music and literature since childhood. Dhobi Khola is a village in remote place where plenty of trees, tea bushes, flowers and natural scenes, the sunshine, sunset and changing climate attracted her emotion from the very beginning. Her father late Chandra Bikas Rai was the head master of Gopaldhara Primary school and she was greatly inspired by her mother and father for pursuing study. Chandra Bikash Rai's father and mother Shri Prithiman Rai had passed away when he was a child and therefore he was brought up by his uncle, father of Shri Sachen Rai, Ghoom. Child Kamala was very curious to observe each and every thing around her and she has noticed the activities of her grand father. Her father used to teach her and her sisters all the lessons in school and in house. She used to learn all the Nepali poems by heart like Garchu pyaro sano Cha mero fulbari, halchu pani sanj bihan nabirai, champa, chameli, chap Ani sunakhari … so on so forth. A time came to her life in the early childhood that her father suddenly had to leave all of them as her father had to undergo basic training compulsorily to qualify for his teaching service.. A child of hardly ten years, Kamala did fell ill all of sudden and due to her prolonged illness, she could not attend school regularly. But her mother was very supportive and made available all books to her at house and encouraged to study and prepare for next examination. One year elapsed and by then her father too came back and joined his service. She got the opportunity to appear in the examination and successfully passed and was promoted to upper class. She was pale and weak due to severe dysentry and one day, she did fall from the roof of her house to the ground and became unconscious. Still then, it was the wishes of God that she lived and recovered. Slowly, she passed out from the primary school and admitted in Mirik School in 1968-69 at class five.

There she met many new friends who were very amicable to her and among them Manika Pradhan, Gyanu Tamang, Urmila Tamang were best friends while Biswamitra Rai was a talented persons who was expert in literature and music, always admired by her. However Biswamitra's untimely dead could not make him a perfect man in the field, she always used to feel sorry about his untimely death. There were 8 daughters and no single son of late Mr. and Mrs. Rai and Kamala was second daughter. She was very sentimental from very childhood and she used to sing the song particularly the popular songs of Aruna Lama, Tara Devi and all. She staged in some of the function too, but later on she was more inclined towards literary pursuits and preferred to write short stories, short essays and few poems.

Her love affairs, marriage, literary works and writings.....

---------.

.
Behind the Scenes of My Home Page